Introducing The New SANMOTION F2 and F5 Stepper Drivers
SANYO DENKI has broadened its range of the SANMOTION F2 DC-Input 2-phase stepping system and SANMOTION F5 5-phase stepping system with a high-power model and a basic model. This expansion offers more flexibility to customers seeking the right solution for their specific needs.
The Product Series of New Stepper Drivers
The Features Of New Stepper Drivers
High torque and high efficiency
Due to the expanded motor excitation current, the high-power models provide a torque that is 1.5 times higher during high-speed operation, resulting in an 8.7% improvement in maximum efficiency compared to our conventional model. This feature plays a significant role in reducing the machine cycle time.
Low vibration and low noise
Our latest current control method not only reduces the average speed fluctuation to less than half but also decreases the motor noise by an average of 3.2 dB, compared to our conventional model. These features are available on both a high-power model and a basic model. Moreover, by utilizing the low-vibration mode, you can achieve smooth operation that's equivalent to micro-stepping while still maintaining full-step or half-step commands. These enhancements in precision and performance make our motors ideal for a wide range of applications.
Optimal Parameter Settings
SANMOTION F's high-power model comes equipped with abundant functions and custom settings that can be easily optimized using a PC, as opposed to complex manual adjustments. These custom settings allow for precise control over a range of parameters, including:
I/O signal function selection – Operating current limit signal, limit signal, and alarm output.
Current Setting – Current at rest and switch time during current at rest.
Advanced motor control options – Electronic gear and speed command filter, ensuring optimal performance for your specific application.
Comprehensive protective function
Our drivers are designed with safety and security in mind, featuring comprehensive protective functions that ensure both the high-power and basic models operate safely and reliably. The new driver can detect system failures, abnormal voltage, overheating, and overcurrent, and promptly notify the host device with an alarm to prevent any further damage. Additionally, the alert function can be customized to notify the user before the motor stops by changing the settings.
Furthermore, our drivers are equipped with a maintenance notice function that notifies the host device when the traveled distance or operation time reaches a preset value, ensuring optimal performance over an extended period of time. Please note that these alerts and maintenance notices are exclusive to the high-power model drivers, further enhancing their reliability and performance.
Upgrading to our new stepper motor driver models is made easy with the basic models, as they have the same mounting and interface compatibility as our current models. By simply replacing your current stepping driver with our new model, you can improve your equipment's performance without having to change your current motor. 
Our newly designed high-power models boast a significant 63% reduction in volume and 73% reduction in mass compared to the current model. Meanwhile, the basic models offer a 7% reduction in volume and 39% reduction in mass while still maintaining compatibility with the current models.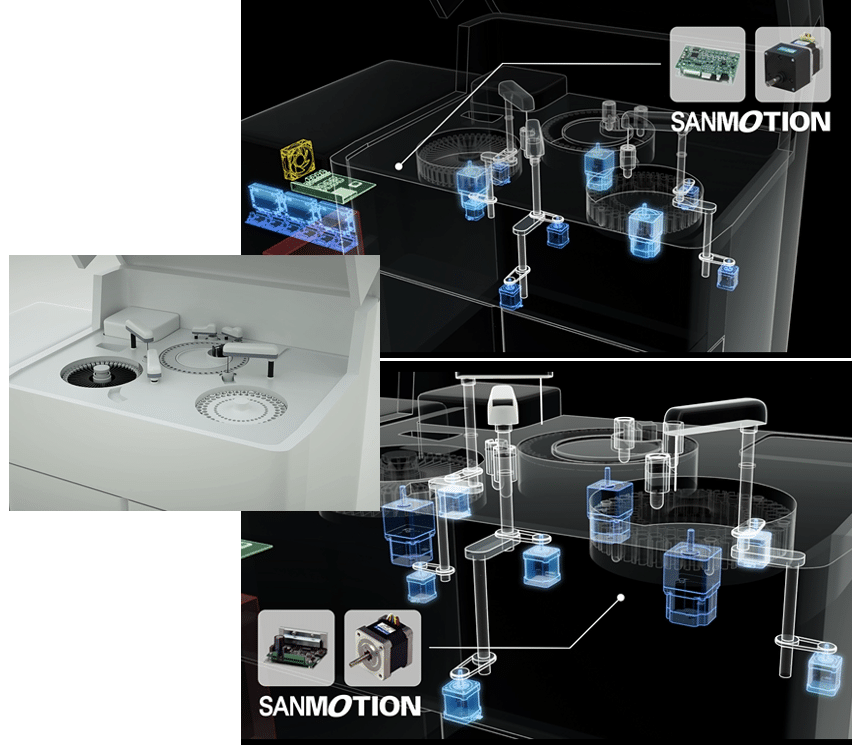 Stepper motors and drives are widely used in various industries that require precise control of motion and positioning, such as medical equipment, semiconductor manufacturing equipment, measuring instruments, packaging equipment, 3D printing, analyzers, and electron microscopes, and more.
In conclusion, our range of stepper motor drivers offers a wide range of features and benefits that cater to various industrial and manufacturing needs. Whether it's our high-power models or basic models, customers can rely on our products to provide the safety, reliability, and performance that their operations demand. 
For the list of compatible stepper motors, click here.