NSK MCE actuators have been preconfigured with SANMOTION stepper and servo systems and will be featured at Sanyo Denki's ATX West booth this year.
Sanyo Denki seamlessly integrates their motion control craftsmanship with NSK's expertise in ball screws, linear guides and support bearings and to offer a lightweight, compact and highly precise single-axis actuator. The pioneering Monocarrier™ series expands NSK's line of Monocarriers to deliver the MCE series: a preassembled and pretested motorized actuator. The MCE Electrified Monocarrier is a turnkey solution that offers significant benefits: 
Streamline – consolidating multiple components into a single, compact and customizable part number 

Simplify – reducing design, test and installation time 

Support – dedicated collaboration, project management and technical expertise from NSK and Sanyo Denki 

Multi-axis Control Adds Design Flexibility
To Equipment Engineered For Performance
The craftsmanship of the servo and stepper motors on the actuator demos are only exceeded by the sophistication of the amplifiers and controls that are driving them.  Visit booth# 4180 to learn about the servo systems driving the MCE actuators.
Multi-axis Stepper Systems
Multi-axis Servo Amplifiers
Open frame servo drives allow panel variations of the servo system's control, power supply, and servo drive units to build multi-axis servo systems with 62.5 µs EtherCAT cycle times in a small space envelope.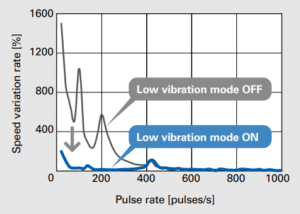 Thanks to their low vibration mode, SANMOTION F2 stepping drivers can smoothly operate stepping motors even at low resolution settings such as full-step and half-step modes. Vibrations can be suppressed regardless of the host controller.
High Torque: Compared to our conventional model, torque performance has improved by approximately 40%. This contributes to shortening the positioning time and machine cycle time.
Low Noise: These motors have noise levels approximately 3 dB lower than the current model, reducing the noise level of machines.(2)
Energy Saving : Motor efficiency has been improved by approximately 3% compared to the current model. This contributes to reducing power consumption of machines and the motor's heat dissipation.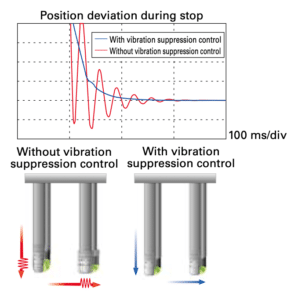 With feed-forward vibration suppression control, vibrations at the end effector and base of a machine can be suppressed through simple tuning procedures. Vibration control frequencies are selectable as well.
By incorporating new-generation power devices, the R 3E Model decreases electric power losses by up to 10%.  The 3E Model has up to 10% lower standby power consumption as it limits unnecessary energy consumption by controlling the fan speed according to the internal temperature of the servo amplifier.
The high-precision battery-less absolute encoder Model No. HA035 comes equipped with our servo motors as standard. It does not require a battery or a periodic replacement part, so the need for cumbersome maintenance and export procedures are eliminated. We offer various encoders that help to select the best encoder for your device. Refer to the catalog for more information.
Sanyo Denki will be hosting a booth at the 2022 ATX West Show. Come see the NSK actuator featuring either the R series servo motors or F2 stepping motors. Visit booth# 4180 to see first-hand how the NSK actuators operate with Sanyo Denki's high performance servo systems. Use promo code MYGUEST to get a free expo pass.
Explore more of SANMOTION's products that will also be featured at the demo booth.