The Differences Between Electric Molding Machines and Hydraulic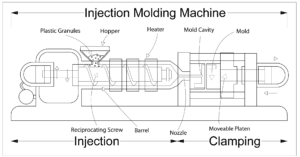 Injection Molding is a manufacturing process for producing parts by injecting molten material into a mold of a shape they or their customer desire. Injection molding can be performed with a host of materials; most commonly thermoplastic and thermosetting polymers, but also including metals, glasses, elastomers, confections, and others. To create the high pressures necessary the energy is commonly produced by hydraulics or electric motors.
According to the Plastics Industry Association, a full-electric injection molding machine is defined as one that has at least its three main axes (clamp movement, injection, and metering/plasticating) driven by servo motors. The remaining three axes (nozzle touch, ejection, and mold-height adjustment) can still be driven by hydraulics and fit the same definition. 
The most efficient version of these machines however are the ones that are fully electric. They have virtually no power loss and require far less maintenance than their hybrid and fully hydraulic counterparts.
Saving Energy Expenditure by
Switching to a Fully Electric Molding System
The standard hydraulic driven Injection Molding Machines (IMM) typically need to have a single speed motor running to power a variable-displacement pump. This motor will be idling constantly to power the pump, regardless of the pump's output there will be significant energy lost with this method. 
On the other hand there is the fully-electric IMM, where the electric energy is converted directly into kinetic energy. This means they have the best energy efficiency, since there is no transformation from electric energy to hydraulic pressure and then to kinetic energy. 
The European plastics industry has developed a system to classify the energy efficiency of IMMs. They place machines in certain categories based on their mode of operation and developed certain standards to compare the energy efficiency. It's called the Euromap 60.1, and it roughly translates to the following numbers:
• Hydraulic machine with single speed motor: 100% energy consumption;
• Hybrid machine with only metering fully electric: 75% to 80% energy consumption;
• Servo-driven pump machines: 65% to 70% energy consumption;
• Full-electric machines: 45% to 60% energy consumption. 
Source: Klaus, Markus. "15 Things to Know about Servo-Driven Injection Machines." Plastics Technology, Plastics Technology, 24 Jan. 2020, https://www.ptonline.com/articles/15-things-to-know-about-servo-driven-injection-machines.
SANMOTION specializes in high performance energy efficient servo systems with a wide scope of applications including injection molding. Click the link above to learn more on how SANMOTION prioritizes power and energy efficiency when designing our products. Click the button below to view SANMOTION's full catalog.  
Reduce Panel Size with
Open Frame Servo Systems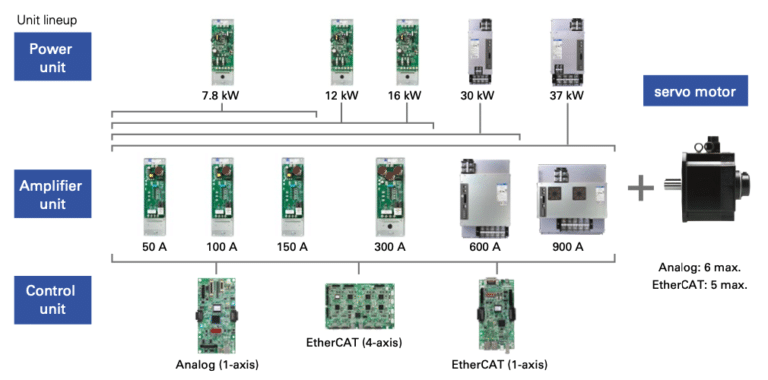 Because the 37 kW system has been added to the lineup, the 400 VAC input multi-axis system lineup was expanded to support output capacities ranging from 550 W to 37 kW. The 37 kW power supply unit can also be combined with the existing 25A to 150A open-frame amplifier units. As a result, the 400 VAC lineup is now available in comparable output variations to that of our 200 VAC multi-axis servo amplifier.
The multi-axis amplifier has better servo responsiveness and suppresses machine resonance and vibration better than the previous model, while also improving machinery productivity and processing quality. It also comes with functions for monitoring the status of power consumption and encoder communication quality as well as estimating the remaining life of dynamic braking (DB) relays and holding brakes. These rich features contribute to the environmental diagnosis and preventive maintenance of machinery.

The size of the new models has also been made much smaller than that of our previous models. Large-capacity servo amplifiers require larger electrolytic capacitors and other components. The latest power modules were used in the power supply unit and amplifier unit to reduce power loss. They also use a high-performance heat sink to optimize heat dissipation. Furthermore, downsizing was achieved by using a high-density component layout. The number of components were minimized to reduce weight by using an integrated copper bar structure for the unit's internal wiring.
As a result, the new 600 amp servo drive has been made smaller and lighter, achieving a 61% volume and 60% weight compared to the previous panel mount models. The open frame servo system is recognized as the industry's smallest space envelope for a servo system to drive a 37 kW servo motor.
Visit Us at the Injection Molding & Design Expo
The Injection Molding and Design expo is an exciting new free-to-attend tradeshow from the people behind Plastics News and Injection World magazines. 
Focused exclusively on injection molding, the two-day event brings together the complete North American supply chain, from part and mold design, through process optimization and automation, to finishing and assembly. 
May 25th – 26th, 2022 in Detroit, Michigan USA Sanyo Denki America will be in Booth #318.