The R 3E Series servos are capable of driving large inertial loads rotating multiple ramen noodle packaging actuators.
SANMOTION servo systems are designed for maximum equipment output. A ramen noodle packaging machine (and other food packaging machines) is an ideal application for SANMOTION servo systems because our high performance features enable equipment engineers to overcome typical mechanical hurdles to improve output. 
To watch other motion control solutions operate in food production equipment, please visit our applications page.
R 3E Servo System Features
Smooth Motion – Vibration suppression reduces equipment cycle time and increases productivity.
Preventive Maintenance – The power consumption of the regenerative resistors is monitored to remotely  diagnose equipment failure.
Improved control accuracy –

Significantly enhances the processing quality.

Built-in safety functions –

Safety models feature monitoring of position and speed of devices as well as a safe operation stop function.

Power consumption management – Efficient energy consumption is built into the design and monitored with included software

.

Easy startup –

The SANMOTION Motor Setup Software enables easy and quick system startup by displaying parameters required for operation in an easy-to-understand manner.

Auto-tuning –

The servo amplifier automatically optimizes servo gain and filter frequency in real time.

Easy troubleshooting –

The drive recorder function that records motor and amplifier operating status in 1 ms time stamps allows you to assess the alarms and other abnormalities later for easy troubleshooting.
Servo Sizing for Ramen Noodle Packaging Machines (and Other Applications)
SANMOTION helps customers create a Bill of Material (BOM) whether the specifications are known or not.  If the specifications are known, our advanced filters can be used on product selection pages to narrow down model numbers to the perfect motion control solution.  If the specifications are not known, our sizing software can be used to enter the mechanical details to calculate the specifications required to meet torque and speed expectations. 
Filter Model Numbers with Servo and Stepper Specifications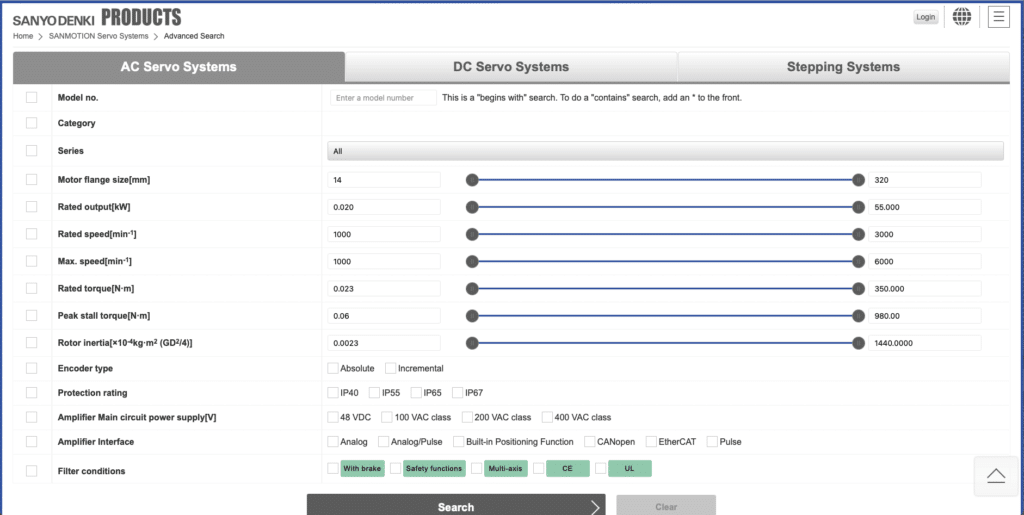 The Sanyo Denki product search tool provides specification ranges to filter for model numbers that suit your application. When motor specifications are known, go to the advanced search tool on the SANMOTION product page. Narrowing down servo and stepper choices in the catalog becomes straightforward using the parameter choices. Clicking on the model number results provides product specifications, downloads (catalogs, manuals, and CAD drawings), system components, and related information.
Generate Servo Specifications and Bill Of Materials with SANMOTION Sizing Software
Sanyo Denki's servo sizing software simplifies the process, promising to reduce the time and headaches involved in sizing components such as servo and stepping motors in a wide range of applications.
Enter mechanical details.
A printable report is generated with each servo sizing.
After the motor sizing is complete, a complete BOM including all of the required components for the servo system is configured.
Sanyo Denki Servo Controllers and Amplifiers
Sanyo Denki servo motors are part of a servo system that includes a controller and an amplifier. Matching the features of the controller and amplifier to equipment requirements complete the servo solution for food production equipment including ramen noodle packaging machines.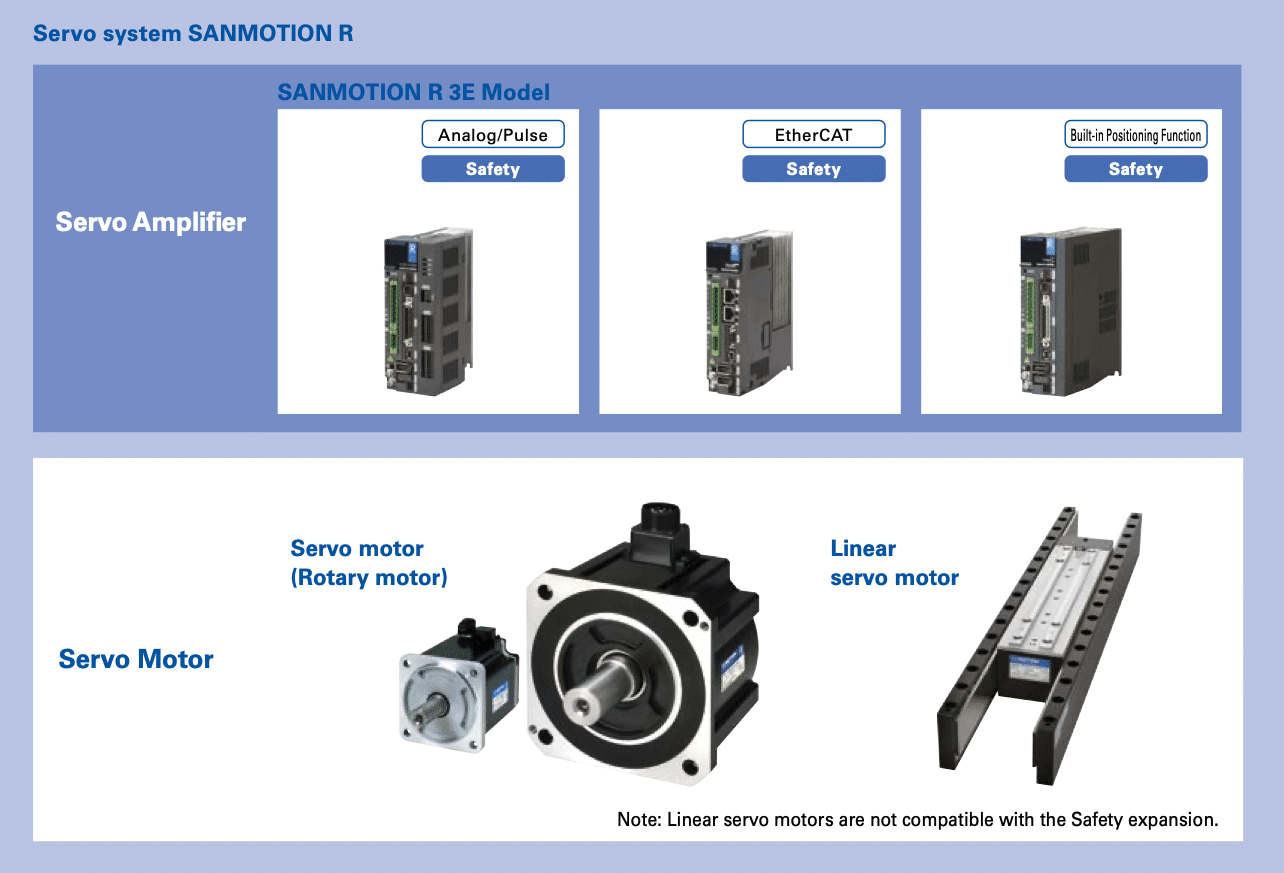 Download R Series Servo Catalog.
Explore More Application Examples
Get in touch with our team.