Find Compatible Amplifier Model Numbers and Their Support Documentation
A servo motor needs an amplifier to operate its closed-loop correcting that is inherent to servo system motion control. An error signal is the starting point of the corrective action needed for the operation of an electric servo system. The comparison of a set point and its controlled position is the foundation of a closed-loop servo system.  A servo system requires amplification of its error signals from the servo motor's encoder.  This amplification is provided by the servo amplifier or servo drive.  When a servo motor is operating the actuator, the servo amplifier provides the power and positioning required for high-speed, accurate motion control.
SANMOTION has developed several resources for matching the amplifier to the servo motor that's best suited to your application. The step-by-step process below will guide you to find amplifiers that are compatible with the servo motor you've found. In our example, we chose the R2AA06020F[], which is driving an NSK MCE servo actuator from our tutorial: 3 Steps to Match a Servo Actuator's Motor to an Amplifier.  SANMOTION servo motors are pre-engineered and pre-assembled to reduce time-to-market when machines require linear actuation.
Cross-reference Servo Motor Model No. with Servo Amplifier Features.
In the image below, the R2AA06020F is the servo motor model from our chosen NSK's MCE servo actuator. Using our servo motor model number guide, we know that it is a 200W, 200VAC servo motor with a 60mm flange.  
With the servo motor model number of the linear actuator known, the search tool in SANMOTION's Core Catalog points us to the R2AA06020F product page in the search results. At the bottom of each product page in the Core Catalog, a list of compatible amplifiers is provided.
The highlighted amplifier (RS3A02A2HA4) is an R3E series AC servo amplifier chosen because of its EtherCAT capabilities for multiple coordinated axes and smoother equipment operations.
Download amplifier specifications from the product search tool.
The Sanyo Denki product site includes two different types of search tools:
Search by Keyword
Advanced Search by Specifications
Search by Keyword is the tool that should be used to go to the RS3A02A2HA4 product page.  The model number used for the keyword search is the amplifier we chose by cross-referencing the compatible servo motor model with the EtherCAT communication our application needs.
The Advanced Search is a parametric search tool using specifications for users who are starting from scratch at the beginning of the equipment design process.  In our example, the servo motor and servo amplifier model numbers were already known following the combination lists starting with the MCE servo actuator specifications.
In either case, the search tool result directs users to a product page that provides product specifications, downloads (catalogs, manuals, and CAD drawings), system configurations, and related information.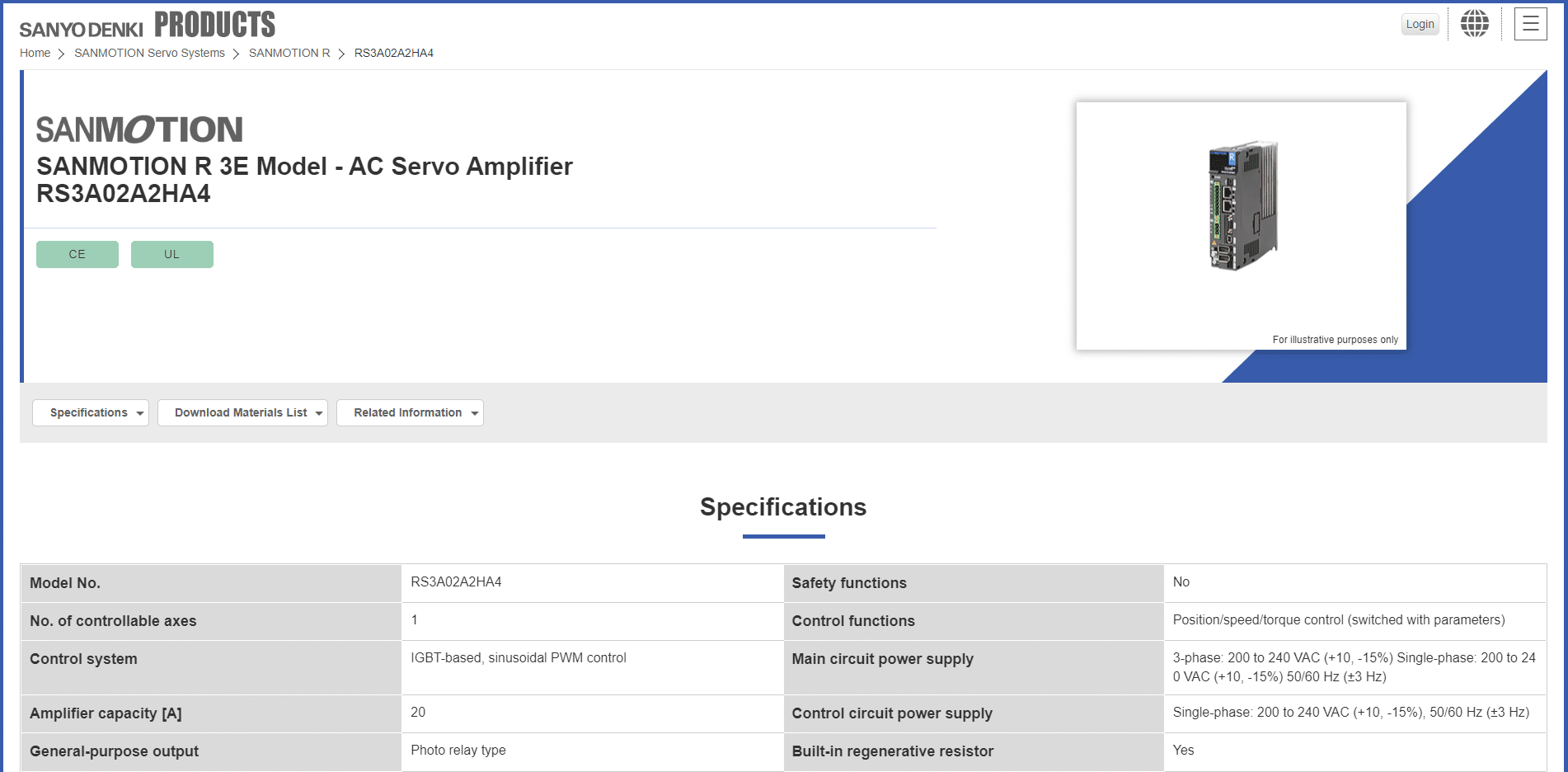 Core products stocked in the U.S.
Get in touch with our team.